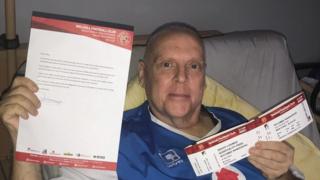 A grandfather with terminal cancer says he is "over the moon" after the manager of his local football club sent him free family tickets to an upcoming match.
Dave Williams, 59, from Oldbury, got the tickets from Walsall FC boss Dean Keates on Thursday after his daughter contacted the club to ask for a card.
Mr Keates said he wanted to help Mr Williams "take his mind off treatment".
"I know how tough it can be" he added.
Father-of-three and grandfather-of-two Mr Williams, previously worked in manufacturing before he was diagnosed with terminal sarcoma in June.
He had been suffering from swelling to his right leg which doctors thought was arthritis or a blood clot before he was diagnosed.
'Burst into tears'
A Walsall FC fan for more than 40 years, Mr Williams has only been out of the house twice for leisure activities since he was told he had the condition.
His daughter Chloë, 19, contacted the League One side after her dad's diagnosis to ask for a card signed by the players.
After she received this, the side got in touch with her again.
She said: "I was so happy to have sorted the card for dad, then when they got in touch again to offer the tickets, I was so excited."
Mr Williams said: "I just burst into tears when I saw the letter.
"I've been a supporter for so many years, been to almost all the games last season so to get this is so special, they've given support back to me.
"I'm over the moon."
Miss Williams shared her thanks with the club on Twitter.
Now the family, including Mr Williams' sons Scott, 23 and Adam, 32, are all looking forward to attending the game against Wycombe Wanderers on 27 October.
"I really can't wait to be there." Mr Williams added.