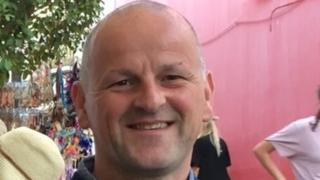 An Italian football fan lashed out at a Liverpool supporter during a joint attack before a Champions League semi-final, a court has heard.
Filippo Lombardi, 21, denies wounding or inflicting grievous bodily harm on Sean Cox, 53, who was assaulted outside Anfield in April.
Mr Cox was "knocked unconscious and seriously injured" by a blow struck by another man, Preston Crown Court heard.
He was left in a coma before the first leg of the Liverpool and Roma match.
An earlier court hearing was told the father-of-three from Dunboyne, Co Meath, Ireland, was out of the coma, but his condition remained "very dire".
Opening the trial Neville Biddle, prosecuting, said: "Before the match, a Liverpool supporter, Sean Cox, a middle-aged family man from Dublin, who was a lifelong Liverpool supporter and who had come to Liverpool with his older brother Martin, was assaulted and knocked unconscious and seriously injured."
He added: "It's the Crown's case that two men were involved in the assault on Sean Cox – this defendant and another.
"It was the other man that struck the blow that felled Sean Cox and rendered him unconscious."
He said it was "a joint attack" with the two men "acting together and therefore equally responsible for the injuries inflicted".
'Went too far'
The court was told a second man had been arrested in Rome and was awaiting extradition.
Mr Biddle said Mr Lombardi and the man shown on footage punching Mr Cox, referred to as N40, were at the front of a group of about 50 fans who walked from Liverpool Lime Street station to the stadium ahead of the match.
He said: "A witness, Mykel Askew, was on Venmore Street when he noticed the group of Italian fans all walking in the same direction approaching the ground, many of them had their faces covered and they were chanting in Italian.
"He believed that they were going to cause trouble.
"Some of the group were taking their belts off and were holding them in a threatening manner."
Mr Biddle said Martin Cox had gone to move away from the group, but as he did so "he turned to see Sean Cox lying motionless on the ground".
He said footage pieced together from CCTV and mobile phones showed Mr Lombardi raising his belt as if to strike Sean Cox, before the other man punched him.
He added: "As he is falling to the ground, the defendant lashes out at him as he falls."
Alison Gurden, defending, said Mr Lombardi had admitted an offence of violent disorder and accepted his behaviour following the attack on Mr Cox "went too far".
She said he had "no idea" N40 was going to assault Mr Cox or anyone else in an unprovoked attack.
The trial continues.